Legends of Great Dragons™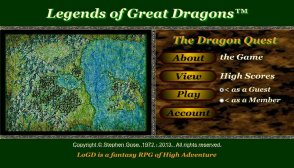 Game Description:
Legends of Great Dragons™ ("LoGD") is a fantasy role-playing game of exploration for Mages. It is a module of the "Adventurers of Renown" gaming series. Shops, Ruins, Forests & Shrines are among the few places to explore when not actively researching magic spells, training with dragons, or dueling other players in the "Mystic's Area". Winners of maigical combat excel in abilities & Renown; losers gain shame and injuries! This gaming system is a unique Fantasy Role-Playing game of high adventure and legendary deeds — newly updated for 2015 postal mail (PBM), eMail (PBeM) and online-game (Play By Modem) enthusiasts.
Volume I is the comprehensive rule-book for these initial three (3) adventures:
The Ruins of Able-Wyvern,
Lone Tower and
Dragon Quest.
Registered Members create customized characters' attributes, select various career paths, and choose character's race. Members also enjoy the privilege of up to 20 active characters and many other benefits. 'Guests' are supplied a single 'randomly' generated character and are restricted from several members' gaming areas.
The Legend
It was in those days–days that were fraught with wars and villainy–that the Revelation came to Princess Arianna and her Ladies-in-Waiting.
For three nights it appeared and vanished. Princess Arianna spoke of the terrible omen to her father, King Stefan, for the apparition frightened her.
On the fourth night, it appeared yet again as in nights past. And when it had come to its full brilliance, King Stefan hailed it and bade it reveal its purpose or be gone.
Then all those in the chamber heard the rush of wind and the roar of mighty water as if a great storm would come upon them. All trembled at the threat of destruction. Howbeit the tumult passed, and a still quiet voice was heard.
"Choose now, by trial of arms and courage, a champion who will bring forth upon this land eternal peace. A Champion of Renown and Wondrous Deeds who will be, forever after, the subject of songs, myths and legends. Find this person, and your lands shall prosper and lack for nothing–as none, hither to fore, have known."
Thus began the quest for the Champion of Renown, herald of the 'Age Golden', and the Legends of Renowned Deeds.
The Ruins of Able-Wyvern™ (ARRA) is the first introductory game-module of man-to-Hero tactical combat with arcane weapons. The Town of Lake-Shore provides the best place to begin your first-few campaign. This game is statistically balanced, and allows your newest characters to grow in status, skill and renown before launching into the sister game — Legends of Renown Deeds™: The Hero's Quest (LoRD).
Webmasters: Earn additional income when you register this game as an PBMCube Network Affiliate. You earn generous percentage of each paying membership and sale this game produces tagged with your affiliate number.
Game Features:
Single and Multiplayer
Save your characters, game settings, and progress!
Import characters into other PBMCube Networked Affiliate Games.
Win awards, badges, titles, fame, wealth and renown.
Full "Headless Game Design" option available.
11 languages supported.
Game Licensing Options:
Purchase a license for your self-hosted Renown Game from Steve Gose Game Studios. The free "downloaded demo game" provides advertising revenues directly to our developers; but with an active License, these pre-game ads are turned off. You have two options available when licensing any Renown Game. Either license option permits:
White Label - insert your logo;
Crowdfunding your license through clients' donations. It's free, easy, and fully explained in our Free Affiliate Guide.
Anti-theft options (freely included) permanently protects your affiliation revenue generation;
Enhances your product's investment with software updates (FREE! based on license selection), and
Turns OFF annoying pre-game ads!
License

$48.00 (USD) 1-time License Fee

This is the best option for the game developers, gamers and website owners. It permits website publishers continued revenue and gives website managers a single capital investment for popular games while reducing the annoying wait-time pre-game advertisements for their clients (i.e., your gaming customers). Volume Discounts Available.

* NOTE: This option provides free product updates for the first year after purchase; and then, continued software updates are available for a $4.00 annual subscription!

Source Code, Instruction Book, and Course

Quickly learn how to create your own version of Legends of Renown Deeds™. This Amazon book guides you through the rules for a table-top game version. Learn how to build this Tactical RPG Quest as a Progressive Web Applications (PWA) or a Single Page Web Applications (SPWA).
About this Game:
Current Version: 15.0 (stable since: 2 Jan 2014)
Game mechanics: Tactical RPG, Adventures, Quests, and Mazes
Source Code: PHP, ASP, JavaScript or ActionScript 2 & 3;
Formats: PHP, ASP, HTML5/JavaScript or Flash CS4 / 6;
Market Saturation: (as of 20140331)
hosted on 1,174 websites.
Board Game version (1973 - 1993)
Wildcat BBS Door Game version (1991 - 2000)
Original Flash released (2002)
74.36 average game plays per gamer per host.
HTML5 Phaser JS Gaming Framework (WIP)